DEPART : 9:00AM Sunday, 6/22
RETURN:1:00PM Saturday, 6/28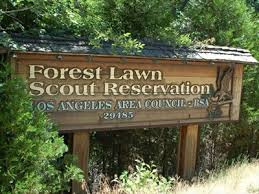 FUN, FUN, FUN !!!  Summer Camp is here !
We're camping at the Forest Lawn Scout Reservation at Lake Arrowhead again this year.
Lots of great opportunities for Merit Badges too !
Here are Scoutmaster Hanhart's strong recommendations for Summer Camp Merit Badges
If you have joined the troop this year (2014) and are NOT a First Class Scout, you NEED to be taking "PATHFINDERS" for all periods.
If this is your first year of Summer Camp (almost First Class, joining late last year) you NEED to take "FIRST AID", "SWIMMING" (both Eagle required) and "WILDERNESS SURVIVAL";  I would suggest taking some fun MB's you want for the other two periods.
If this is your second year going to Summer Camp, I suggest taking at least three Eagle Required MB's; then some fun ones.  Maybe "RIFLE"…
If this is your third or more years at Summer Camp, finish up on one or two Eagle required then take the fun High Adventure MB's.  Maybe "SHOTGUN", "ARCHERY", "CLIMBING" or COPE (not a Merit Badge).
REMEMBER:
June 22 – 28th – Sun. – Sat.:  SUMMER CAMP, FLSR
For additional questions, contact me via E-mail or at 323-816-8826.
Brian Hanhart, Scoutmaster
Troop 718
Riviera Scouting
"We are not a club or a Sunday school class, but a school of the woods."
Sir Badden-Powell, Scouting's Founder