The "Knot of the Month" for August 2016 is – Two Half-Hitches.
To keep moving our Scouting Skills for Troop 718, we're introducing the "Knot-of-the-Month".
All scouts will be required to correctly tie the Knot of the Month for entry into the troop meeting.
Senior scouts and ASM's will always be on-hand to assist with any scouts who need assistance.
Be sure to check out the video to practice !!
Here's what it looks like.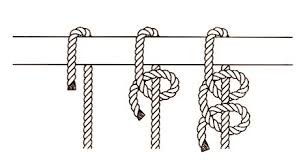 FOR GREAT TRAINING VIDEOS FOR ALL BOY SCOUT KNOTS – CLICK HERE.
Save