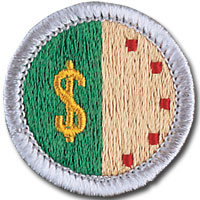 At this Sunday's Troop Meeting (6/8/14), we will be starting the Personal Management Merit Badge as a troop – no BLUE cards required.  We expect that it will take about 3 sessions to cover all of the required material.
If you'd like to get a head start on the material and review it beforehand, please review the requirements on the Merit Badge worksheet.
The Personal Management Merit Badge is an EAGLE REQUIRED merit badge so that you'll want to be sure to make every effort to participate in all three meetings.
VIEW MERIT BADGE REQUIREMENTS ONLINE HERE
The Personal Management merit badge not only tests a Scout's bookkeeping skills, but his dedication to learning a new skill, as it will take at least three months to complete. Badge requirements include mapping a life plan that includes setting short-term and long-range goals. Scouts will consider the education, training and life experience needed to reach these goals, and commit to a path. Concepts like money management, charitable giving, emotional shopping, publicly-traded stocks, loans and investments are analyzed.